ABOUT US
**UPDATE: We work with many schools in Asia and Europe and are happy to share experiences of school closures with any school. Please contact us to arrange a free conference call to talk through any issues. On 2nd April we are holding a free live event. Details are below or click here.**
Serving schools' training and consultancy needs is our raison d'être.
Originally delivering leadership and people-skills training (still an important part of our work) we now provide schools with teaching and learning training (e.g. using metacognition, higher-order thinking skills and developing effectiveness for Teaching Assistants) along with coaching new senior leaders.
We always plan our work with schools according to their particular requirements and context, and do our utmost to ensure that our training is engaging, empowering and exactly what the school needs.
HOW WE WORK
High quality CPD does not have to be expensive. We aim to deliver good-value courses, consultancy and coaching to develop the skills and confidence of people in schools. Through really getting to know the people we work with, we develop rapport and build upon existing skills. We continually focus on relationships and priorities. All our team come from a background of leadership and are highly respected within their specialisms to ensure the highest quality training.
Attendees on our training courses work hard; they listen to new ideas and thinking, reflect on existing practice, and plan actionable points to take away.
I hope that you find the information on this website useful. Please do not hesitate to get in touch to discuss any ideas you have for how we can tailor training for your school.
Richard Hester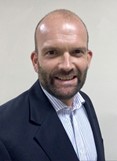 *Richard was initially a primary teacher, and later taught secondary maths, PE and Business Studies. He has been head of an American Middle School, a school in London and a large international primary school. He has been part of school inspection teams in UK and overseas, and was a Programme Leader for the Cambridge Teaching and Learning Diploma. Along with a Masters' degree in Education Leadership and Management he is currently also studying part-time for an EdD at the University of Bath. As well as having worked with schools throughout UK and Europe, he has worked with schools in Thailand, China, Singapore, Saudi Arabia, UAE, Qatar, India and Laos and has presented at educational conferences in UK, Amsterdam, Colombo, Rome and Prague.
| | | |
| --- | --- | --- |
| | The training was provided in a constructive and effective manner, with a real focus on how, as well as what, things could be done. All staff came away with useful and practical action points to further develop their leadership skills and confidence. | |
Julia Waters, Executive Headteacher, Sacred Heart School, Wimbledon and Headteacher, Ursuline High School, Wimbledon.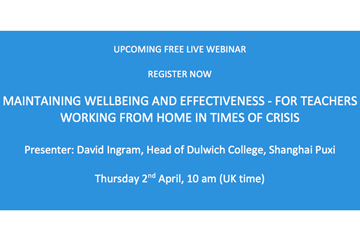 26 Mar 2020
Live Event: Teachers Working from Home
Read more…
30 Oct 2019
COBIS Webinar Recording: Building Positive Teams
Read more…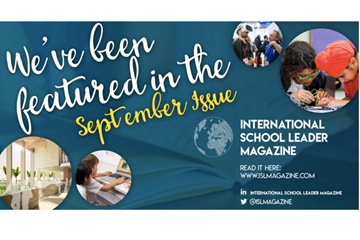 02 Sep 2019
International School Leader
Read more…